Best 3 School ERP Software in India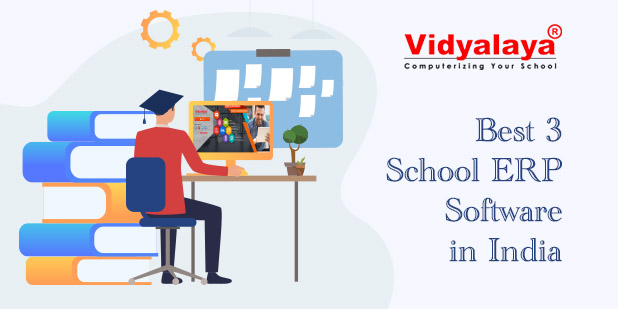 Today's school ERP software includes several features and tools to manage a wide area of the school. Choosing the right ERP software is a little bit difficult.
So, Here I listed out the Best 3 school ERP Software.
1.Vidyalaya School Software
Vidyalaya School ERP software is one of the best School ERP Software in India that offers powerful modules with unique School Management features. Vidyalaya is a complete, fully customizable School Management Software model for schools, colleges, universities, training centers, and academic institutes. It serves institutes to handle all administrative and academic tasks in a single combined system.
Vidyalaya school software is a school process management software. Vidyalaya School software is an efficient, web-based school management software designed to manage Fees, salary, leave, attendance, Exams, Certificates, payroll school Website, and much more.
Vidyalaya School Mobile App is easy to use and customizable. Good School management software provides enough space for teachers to manage and store multiple files, images, and documents in the software. According to the requirements of your school, you can select suitable school ERP software with suitable features. School management software is a solution that manages to automate the school process.
It will help you to manage the various administrative and academic activities of school-like admission, exams, reports, and timetables, etc.
Vidyalaya mobile application helps the teachers, parents, students, and management to communicate end to end. It helps the organization to share each and every useful information of students with parents and to keep the track of all the activities of students.
2. Divine ERP Solutions
With the Divine ERP School Management Software, you can track your child's education system live at your fingertips. Divine ERP Solutions is focused on improving the efficiency of school with the use of a flexible, modular system that organizes school operations neatly on an easy-to-navigate dashboard. School ERP Software helps school principals, students, and individual teachers to complete tasks, examinations, and manage timetables, etc. Using School ERP, any organization can streamline and optimize their School functions to save time and deliver better results to Students and Teachers. Every school has a goal to avail several resources and attain maximum performance. Undoubtedly deploying an ERP can be the best solution which is packed with vital features. The software offers admission, reports, exams, timetable, and library management features to bring the whole school in one place.
ERP School Management software that can handle all issues related to School like attendance, exams, reports, and other associated payments.
Divine ERP is a solution that caters to the needs of the schools. It simplifies and accelerates repetitive tasks to save time and increase output. This School ERP software helps both academic and non-academic staff in their everyday activity. Non-Academic staff can use the software for activities like admin management, fees management, admission, etc. On the other hand, it benefits academic students greatly by streamlining daily attendance and class management.
3. Connecting Campus
With the help of ERP School Software students and parents can check their academic reports and data like Time-Table, Attendance, Home Work, Exam Results, Important Notifications, Leave Request, Meetings, Fees, SMS, Online payment, Question papers, etc. on their smartphones/ mobiles. All updates go to students and parents dynamically. This ERP Software also used to send bulk SMS (sending SMS to multiple recipients). who wish to send SMS to a list of students or teachers and groups in just a few clicks!
Also, it allows you to stay updated about the progress of students anywhere anytime. Manage your day-to-day administrative/Academic activities on fingertips with the help of connecting campus ERP software.