Why Vidyalaya is the best school management system ERP?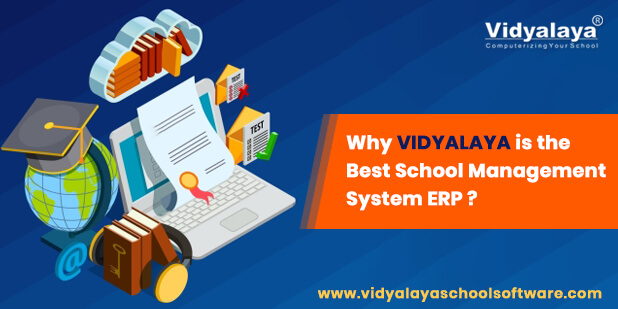 With the blend of technology in the educational sector, digitalization has become very common. For so many years the institutions had to cope up with the day to day management and a lot of paperwork. Imagine, just by taking a small step towards digitalization and managing your entire institution from just a single software, how free and relaxed your staff will become and they will be able to keenly concentrate on the academic part of the students.
Below stated are some of the reasons why VIDYALAYA is the best school management system ERP
Fully Customizable: Every school has a different need, and VIDYALAYA school management system ERP can fit into any school as per the school's requirement. It has a complete list of fully customizable modules and screens. Vidyalaya school management system ERP has a multi-lingual support too.
360 View: This is a screen in which you can get all the student-related information in one go. Be it fees, behaviour, demographic details or result just a click away. This tool is the most effective and comes handy during the parent's teacher meetings, where you need details on a single screen.

Integration friendly: Vidyalaya school management system ERP supports many integrations required by the school in the long run. The various integrations available are SMS integration wherein you can send alerts like attendance and result to the parents. The other options are Tally Integration- which helps you integrate your tally with the Fees section of the Vidyalaya ERP. Online payment gateway is also one of the options. You can track your school buses with the Vehicle tracking system integration. And there are lots more namely Biometric, Online exam, Barcode & Mobile Application.
Manageable Dashboard: A completely manageable and customizable dashboard which reminds you of all your daily tasks and an easy visual summary of your daily requirements. For example- the daily fee collection for the accounts department, daily attendance and birthday reminders for the class teachers.
Multi-Campus Management: Vidyalaya helps to manage your multiple campuses through a single instance at any time, anywhere access. It helps the administrative team to have a look at all their branches & the happenings at all locations mainly benefitting multiple school's management teams to manage all their campuses hassle free.
Easy to Use: Vidyalaya school management system ERP is designed in such a user-friendly way so anyone with a basic computer knowledge can easily use the software with just a few days of basic training. With easy to import-export facility, you can easily transfer all the data into the system & start using the software from the first day itself.
Mobile app: Vidyalaya school management system ERP offers you a complete mobile app, which helps you improve your institute parent communication. On just a single click let your parents know about all the events happening in the school and share photos with them. You can even send the academic reports like the result and the attendance to the parents. Sending circulars has become easy with the portal of mobile app.
Consistent Customer Service: Irrespective of all the above, after the purchase of the school management system ERP, what a school will require is consistent customer service. Vidyalaya provides with the best after sales service which has helped it to sustain in the market for last 16 years.
This way Vidyalaya school management system ERP helps your institution grow and helps you manage all your day to day school activities.