Advantages of Implementing an ERP System in Educational Sectors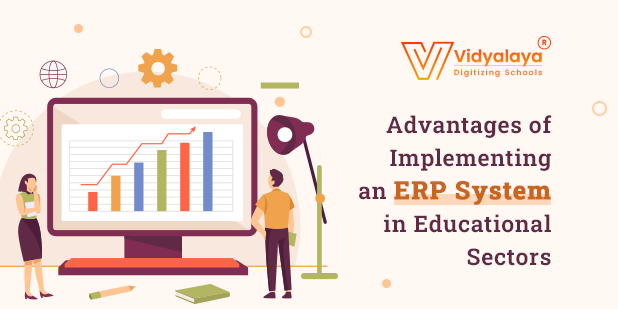 Education industry differs from any other industry as it directly deals with honing the talent of a child. Schools, colleges, and universities are the mediums that play a significant role in developing cognitive and academic skills. Being in a competitive environment all the time, these institutes need to upgrade themselves continuously. ERP system for educational sectors can be a great integration which is sustainable and profit worthy while looking at the advancement in the technological sector.
Till the invention of ERP for the education sector, the sector highly relied on the conventional management system. While other industries smoothly shifted to ERPs, the education sector took a long time to adopt the technology. But when the manual system restricted the visions and its limitations came out front, a search began for a dedicated ERP System in Educational Sectors ERP system for educational institutions.
What is an ERP system for education sectors?
An ERP software that helps educational institutes in managing their day-to-day tasks like admissions, fee management, transport management, student management, and academics along with internal and external resource management. With robust and enterprise-ready software, educational institutes can keep themselves abreast of the latest and adopt contemporary tools to simplify the entire education process. An ERP for the education sector has something for every stakeholder- parents, students, teachers, and school administration. As educational institutes develop several academic and non-academic processes, they generate a massive amount of data that needs to be managed. Only an intelligently crafted ERP system for educational institutions can handle this enormous data efficiently.
Why education sector needs an ERP system?
Irrespective of size and region, many institutes are following the technological path to ease of doing business. While they are witnessing the benefits of ERP implementation in the corporate sector, it is no wonder that they also insist on the same on their campus also. To boost their decision, we have accumulated some top advantages, one can reap by adopting an ERP for educational institutions. Here are they:
1. Smart way of Doing Business:
We all know that the manual way of working brings lots of hassles and thus poor productivity. Shifting the base from manual to automation, one can reduce the workload and yield the desired efficiency throughout the educational processes. For major processes like admission, fee payment, and transport management where lots of resources are involved, a tailor-made ERP system for educational institutions can improve the process execution and accuracy.
2. Real-time data management:
When compared to the traditional education system, data management is a task of dropping off the hat in ERP implementation. With centralized storage, one can bring the entire campus together, making data management simple. Inter-departmental data sharing is never been so easy before an ERP adoption. One can have excellent control of communication both internally and externally and assurance of no data leakage. Even one can get the actual idea of any process for the moment of time as ERP works in real-time. This is crucial in the case of admission, fee management, and payroll processes. Also, school administration can reap the benefits of making correct and rapid decisions with real-time reporting.
3. Rapid Management Process:
With an ERP for educational institutions, one can have a rapid response in every educational process. Be it admission or timetable management, the accomplishment of tasks is rapid, and that too with the highest accuracy. Even for parents, fee payment or checking the progress of their ward is a task of a few clicks. Students can have easy access to study material with integrated modules and can check the status of their every activity like assignments, exams, results, and even admission forms.
4. Reduced Paperwork:
Office of educational institutes full of heaps of papers is not a new thing in manual management of education institutes but one can even wonder with paperless office and still, the processes are executed without any hassle. This is possible with the adoption of an ERP for the education sector. Almost all of the daily tasks are automated and digitalized, one can have significantly reduced paperwork. One can even ask for digitalized study material to access it from anywhere. Complete the admission process without a single document in paper form or pay fees and get a digital receipt without wasting paper for these works and making your education system eco-friendly.
5. Improved Resource Management:
You must have seen increased staff during the peak admission period. But why to waste money on increased resources and that too not in humans but others also when there is an ERP system for educational institutions? From human resources to time, energy, and paper, manage every single resource to its optimal use. Stretch yourself for data management, which is a new-age resource with fuel-like potential. Make it easy with an ERP. Even physical assets like books, classrooms, and other assets can be managed without any hassle and without need for visiting school/college premises within a few clicks.
6. Higher Data Security:
Where is security to data in traditional educational systems? Almost zero or less! But, an ERP system for educational sectors provides the utmost security to data and applications with cloud integration. Within an affordable budget, one can get cost-effective solutions for data security as most of the applications provide access based on the user's access privileges. With strong encryption of sensitive data, no one can access the credentials, providing tighter security. Also, educational processes, like fee payment, payroll processing, alumni management, and others where financial transactions are involved, are safeguarded by SSL or a secure socket layer. This ensures the safety and reliability of financial transactions.
7. Prompt Decision-making:
Educational processes like admissions, fee payment, student enrolment, hostel management, and payroll processing generate a massive amount of data. But, making all this data available to access in seconds so that prompt decisions can be made is a very crucial thing. An ERP system for educational sectors helps decision-makers with organized and accurate data. This always leads to improved productivity and better performance.
Checkout –  School ERP For Modern School
The emergence of ERPs has brought several advantages to any business they are intended for. In the educational industry, looking at the changing requirements and non-organized structure, an ERP implementation becomes a necessity rather than a luxury. Vidyalaya, with a strong clientele legacy, releases ERP system for educational sectors which streamline the academic and non-academic processes and improves them with technology integration. Join hands with us to have the necessary empowerment with technological backup and let's take your educational brand to new heights!