Do your School Software Provide Better Services?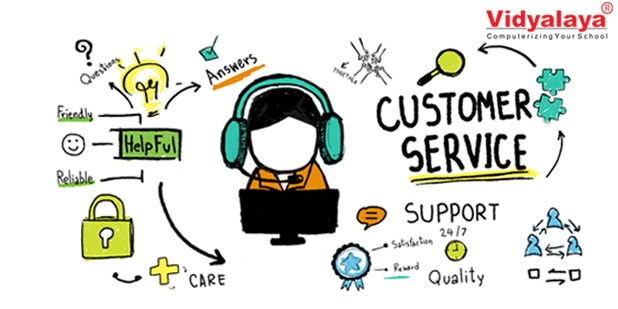 Almost every school have some kind of school management software especially campuses of tier 1 and tier 2 cities, and activities such as attendance, exam, fee collection etc are managed in more sophisticated way, but still majority of schools don't use school ERP solution or it will be more specific to say that educational institutes avoid using school management software.
Now you were thinking that if software helps campuses to run so effectively, then on what face of earth any institute will say no to use this effective campus management software. Confuse!! let me explain you with an example.
So institute name XYZ Higher secondary school purchased a school ERP solution with a goal to make their campus paperless and as every company claim to provide best software and services to their clients, school started using software, and after training and putting all data of students and teachers with their records, managing data of attendance, fees, payroll, and exam were going well for couple of weeks, but when school asked for some customization in reports generated by software, company stated that they can't provide customization, apart from that company also didn't have any customer care center, so school needs to wait a lot to get their issue resolved and in some cases problem are not solved at all, so finally after investing many months and time in learning, migrating data into the software, school was dissatisfied with the services of company and ended being more messed up they were before purchase.
Finally, school discontinues the use of software because they didn't get the things they were promised at the time of purchase. Many so-called "SCHOOL SOFTWARE PROVIDER" sell with the cheap and low quality of services to a lot of customers, the trust is shaken on which school software is with good or bad services.
So if you analyze the situation there was no issue with the software issue was with service they were getting. Getting a good software is only half the case, more important is that services related to software should also be convenient. Alright, then next question is how to determined which school ERP provider will give a good software along with as good as service. Because in the market there are many with good software, but only a few with equally good services.
Customization and Configuration
If you don't want to face the scenario XYZ Higher secondary school faced make sure that above two words should be in a school software checklist or else it's to pull them out of your list. The big requirement of schools are that their school ERP solution should be able to generate the report the way they want, in the format they want and this requirement may vary from campus to campus. So get the software that gives you service of customizing the stuff you want in the way you want.
Customer Support center
School ERP solutions are able to do work of more than 15 people and institute can manage all the sector from one device alone, but for that school need a dedicated resource or operator to learn software and during the operation customer support plays a vital role in implementation of the school management software effectively on campus, because from attendance to accounts and exam to fees collection operator can't remember all functions, so customer support service should be amazing in order to run software successfully and getting benefits of all facilities.
So above are the two service points need to remember and look out in any school management software. This way you will ensure that the solution you are getting is trustable because software and its services will evaluate according to your requirement.