Digitize your school management system with Vidyalaya School Mobile App….!!!!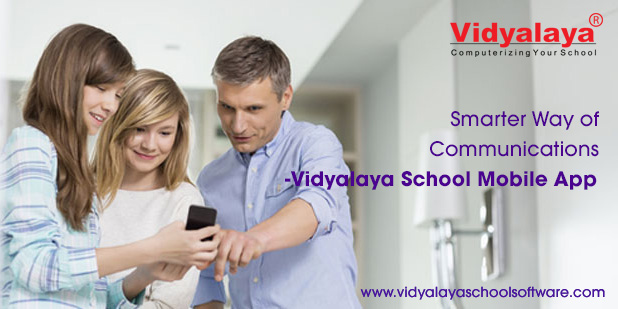 Statistics portal survey on smart phone users in India says there were around 416.2 million users using smartphone in 2011, and these number has reached to 638.4 million in 2015 and its going to be 730.7 million by 2017.
Ah….! what a big leap!
Due to lower cost, wider availability and multi tasking functionality, now a days smart phones are considered basic amenities with food, water and shelter and are preferred more over laptop/desktop due to the higher cost and limited usability of the later one. Moreover overwhelming availability of mobile apps and social networking site drew extra attention to smart phones.
Mobile is now one of the most powerful ways to reach people regardless of the type of business they do. If you want to reach your target audience in a personal and relevant way, you should think about how you can engage with them on their mobile devices.
For such unique requirement of reaching your audience directly, Vidyalaya School management software is back for new delivery – A school Mobile App. Vidyalaya School Mobile App is a smarter way of communication between teachers, parents and students. It removes the communication gap, saves time and deliver the instant result .
Vidyalaya Mobile App strengthen the:
Student – Teacher Interaction.
Teacher – Parent Interaction.
Parent – School interaction.
Students
With Vidyalaya Mobile app student can directly view their Assignment and Homework.
They have direct access to their result, exam timetable, event calendar, news and all school latest updates on real time basis.
Teachers
Teachers can directly meet to parent for their child's result, behavior and academic progress. Teacher can also generate circular, news, event calendar, opinion poll, assign task and can publish news letter. With our discussion forum school staff can discuss and share ideas online for betterment of quality education and student progress.
Parents
Parents can have direct interaction with school for latest news, event, activity, photo gallery, blog and their child's academic progress. With Vidyalaya mobile app parents can too raise query to school for school complaints and can take part in opinion poll.
Benefits of Vidyalaya School Mobile App:
Saves time for one to one meeting.
Faster single line communication.
Strengthen bond between Students,Parents and teachers.
Clear visibility over the performance and process.
Removes the financial and environmental cost of paper.
Helps school branding.
Silent Features of Vidyalaya School Mobile App:
Easy availability on Google Play Store.
Very easy to operate.
Alert and pop ups for new update.
Support all type of attachment.
Quick and Secure.
Multi account can managed with single app.
Now it's time to move step ahead for smarter communication. Call us for fully digitize your institution with Vidyalaya school management software and school mobile app.
Now you may enjoy Vidyalaya School Mobile App in your smart phone from HERE….