Vidyalaya School Management Software – now in Jaipur | Ajmer | Udaipur | Kota | Jodhpur | Bikaner | Rajasthan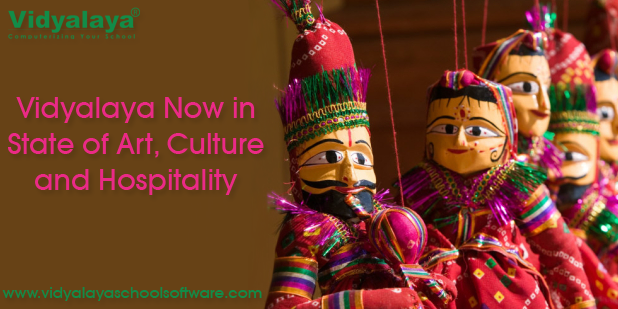 Rajasthan : The Land of Kings is largest state of India in terms of geographical area has got national and international recognition for its tourism, culture, food and hospitality. With well known pink city Jaipur- capital of the state, Rajasthan has got many tourist attraction for its magnificent infrastructures and stunning desert. Though State is largely covered by desert where basic amenities like water is scarce, school and education is least expected, but with the constant effort of the Rajasthan state and education department and adaptive and hardworking rajasthanis, getting good education is no longer an issue in state now.
Rajasthan which used to lambasted for education specially girl education has gone through a sea change over last few years. According to census report literacy rate in state is in rising trend and is about 66.11%. Amongst all Kota having highest literacy rate of 76.55% followed by Jaipur, Jhunjhunu, Sikar and Alwar with 75.51%, 74.13%, 71.91% and 70.72% respectively.
Rajasthan has approximately 55,517 schools includes elementary schools, primary schools, secondary schools and senior secondary schools. With good number of schools, state is also acquired with India's top most colleges and universities. To name a few,
Indian Institute of Technology (IIT) – Jodhpur
Indian Institute of Management (IIM) – Udaipur
Malaviya National Institute of Technology(NIT) – Jaipur
Kota Open University – Kota
National Law University – Jodhpur
Banasthali Vidhyapith – Banasthali
Maharshi Dayanand Saraswati University – Ajmer
Rajasthan Agricultural University – Bikaner
Rajasthan Technical University – Kota.
With such exceptionally good education background in state and our months long analysis in similar field we are very happy to announce Vidyalaya School Management Software – in state of art, culture and hospitality, Rajasthan. A complete school ERP software Vidyalaya has roots in Gujarat and its branches are wide spread in whole India is now ready to serve its fruits in Rajasthan. Vidyalaya is a complete, fully customizable Student Management System ideal for schools, colleges, universities, training centers and educational Institutes. It assists institutes to manage all administrative and academic tasks in single integrated system.
Vidyalaya – Online school management software provides access to appropriate information and functions to all members of school community, including school administrators, school leaders, academic staff, student and parents. It provides a user-friendly, technologically advanced solution to integrating the all school processes.
Find out more on Vidyalaya Key Modules
Vidyalaya is also equipped with plugins like SMS, Biometric, OMR, Portal, E-Exam, Tally and Mobile Apps to configure the need of complete campus management software.
Read more on Vidyalaya Plugins
Key Features of Vidyalaya:
> An ISO 9001-2008 Certified Company
> Over 15 years of excellence
> 1200+ schools and college clients
> No. 1 Product in India
> Supports CBSE, ICSE, IB and State Boards
> CCE, SCE and semester exam pattern
> Integrated for easy payroll processing
Let's make your school management much simpler, more systemic and well structured with vidyalaya "A complete school management system" to meet your expectation. Hoping for the heartily welcome from the state who has always welcomed every one with heartily word "Padharo mhaare desh".