Importance of Time Table Management System in Schools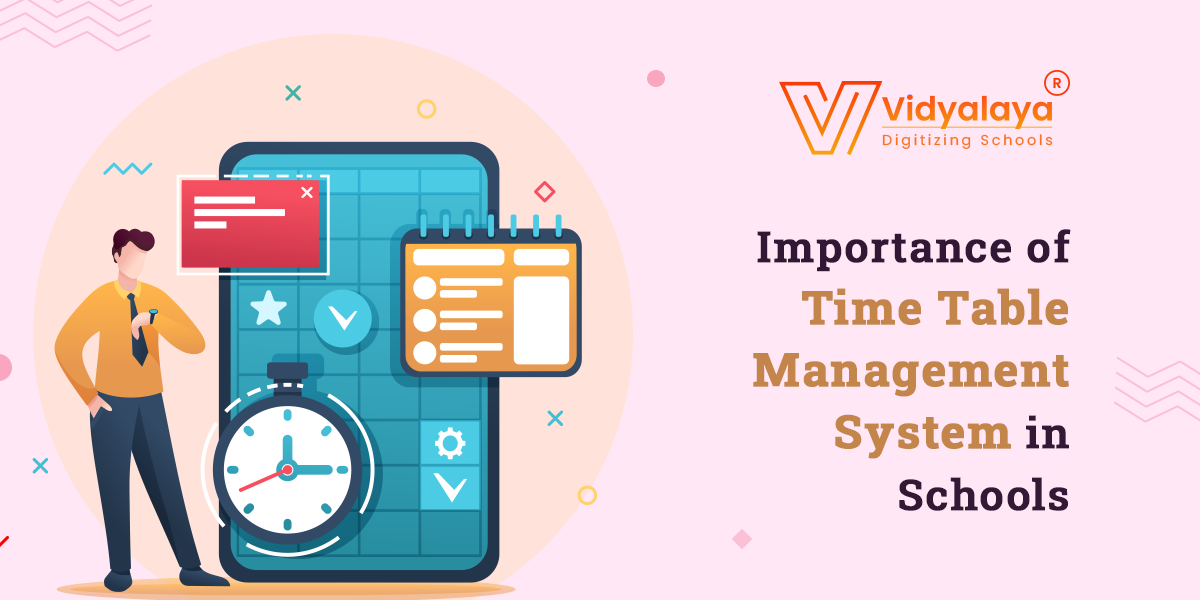 At the start of every academic year, what fascinates the students most is the new timetable. It may look like an attraction for the students, but preparing it is no less than a nightmare for the teachers. The class teacher needs to consider various factors like the teacher's availability, subjects, subject weightage, balancing the extra-curricular things, and so on. But this overhead has transferred into a blessing with the courtesy of the advancement of technology in the form of a Timetable Management System. The upper hand of technology eradicates the complex challenges of teachers and delivers the option of an automatic timetable. There are many institutions that still believe in the manual designing of timetables, then this is the right time to change the path and go for a leading Timetable management software! To solidify this decision, we are here to explore the benefits of the software.
What is a Timetable Management System?
A timetable management system is a cloud-based application that facilitates educational institutes to manage their timetable through automation. The features of the system include automatic timetable creation, sending notifications about changes in the schedule, and getting various reports. It offers a very robust and flexible option for manual counterparts to accomplish the timetable management process. The timetable management software regulates the proper schedule and faculty allocation considering their availability based on their entry into the system. Schools and colleges can enhance authenticity and reliability using this digital approach for the timetable process.
What are the features of Timetable Management Software?
Timetable management software is enriched with different characteristics that make it more comprehensive and apt for today's educational system.
Automatic Creation of TimeTable:
Timetable management software is a holistic approach for creating, modifying, and managing timetables for any class, teacher, or even exam. This will consider all relevant aspects and will come up with a flawless solution that is best suited for all based on the data feed.
Easy Integration:
Time table management system can integrate with other systems like payroll and attendance monitoring seamlessly and can give improved outcomes. While calculating the payroll, the system can give easy inputs for teacher's availability for sessions and can make attendance of students and teachers in the attendance monitoring system. 
Easy view of Cancelled Sessions:
One can easily view the number of cancelled sessions using timetable management software which was a little tedious in manual intervention. This will also help in payroll processing for the teachers who are on an hourly basis. Also, the number will help in managing the syllabus and plan accordingly. 
Auto Notification
Teachers and students are well-notified when there are emergency changes in the schedule. This helps them to be prepared and don't miss out on anything. When changes are made, relevant stakeholders get a notification on their registered email ID/ mobile number via email/SMS. 
How Timetable Management System is Beneficial for Educational Institutes?
Time table management system envelopes several benefits in its kitty. We explore some of them here, have a look!
Impressive Time Management:
ERP and SIS systems have already proved their significance for educational institutes and offer a tool in the form of timetable management software. It provides a systematic way and makes the timetable management process super easy. For timetable creation, the admin just needs to add data and the software will automatically create the new timetable and will notify the relevant stakeholders. 
Lesser Error Occurrence:
When a timetable is created and managed manually, there are more chances of errors and inaccuracy. So, educational institutes adopt technological-oriented ways. The automatic timetable management through the school timetable management system eliminates the possibility of error occurrences and addresses all issues like the availability of teachers and classrooms, weightage of subjects, and others. It provides a robust platform for timetable creation and schools can create different versions of timetables like subject, class, and even exam timetables. 
Automatic Notification to the Stakeholders:
There are many chances of emergent changes in the schedule. This may be because of various reasons like unavailability of teacher or classroom, shifted focus of weightage, and others. In the manual method, there is no option of intimating students or teachers regarding the changes on a prior basis. If they are well-notified, they can be well-prepared in terms of carrying required material, subject preparation, and such. Timetable management system sends automatic notifications to registered email/phone numbers regarding changes in schedule. 
Secure Data:
An automatic timetable is superior to a manual counterpart on the data security front. This most influencing benefit will ensure that data feed for timetable creation is of utmost security with advanced technology like cloud integration. There will be role-based access to the system which will authenticate and authorize the access. 
Open for Customization:
We know every institute has its own rules and regulations and rigid systems take a lot of time in modification of existing systems. So, EdTech companies bring customization to facilitate this diversity. They provide such a tailor-made timetable management system that is open for customization at any point and fulfills the needs of authority and other stakeholders. 
Zero Paperwork:
Timetable creation involves a lot of paperwork and documentation. To cut down on this huge paper usage, it is always best to go digital. This modern way is easy in terms of maintenance and eco-friendly too. So, achieve both aims of being systematic as well as environment-friendly with school timetable management software. 
We all follow a certain routine in our daily lives, the same is followed in educational institutes. But preparing a timetable is not an easy-going task and involves several aspects to be considered. Additionally, everyone wants quick results and less overhead. In the case of a school timetable, this is possible only if you opt for an automated timetable management system. This extraordinary product overcomes the challenges of poor scheduling and difficulty in shuffling the learning requirements of students. Vidyalaya has already integrated the automation of timetable management into its EdTech products. Just ask for a demo and we are sure that you will definitely say, "Timetable? Don't worry! It's a task of few clicks with Vidyalaya's Timetable Management Software!"