What Is Hybrid Learning? A Brief Guide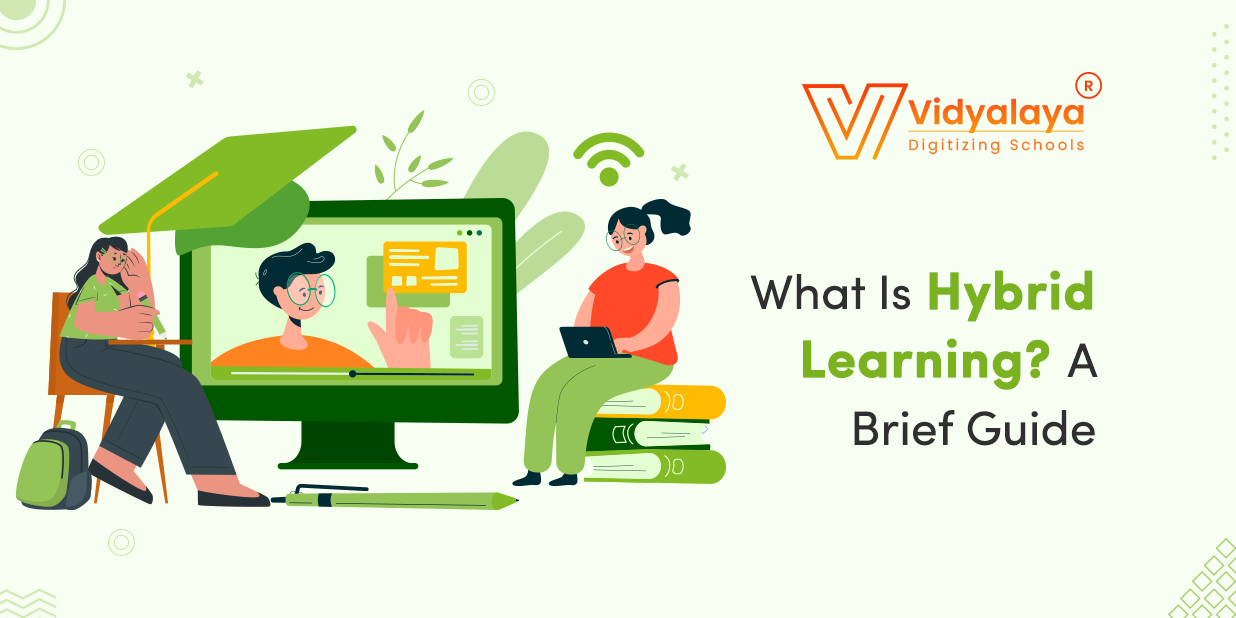 What do you imagine a picture of school? Buildings, classrooms, students sitting on the benches, teachers explaining with books and blackboards, right? But Covid's dead wave transformed this picture! Now, we were watching students sitting in front of screens and teachers explaining, using smart boards. This shift transformed the education sector not only during the spread but also after the pandemic. Even after the pandemic, we can use the best method and can facilitate students with the best of both traditional and online learning. This method is known as hybrid learning. 
What is Hybrid Learning?
Hybrid learning approach combines virtual education with conventional in-person classroom methods. It allows some students to attend classes in a traditional in-person way whereas others can learn digitally from their homes. Teachers use video conferencing techniques to collaborate with both types of students at the same time. Hybrid learning sometimes uses online activities and pre-recorded lessons to help in-person class activities. 
Educational institutes can achieve a flexible balance of online and offline approaches through hybrid learning. It creates a powerful learning environment by blending physical classroom instruction with virtual learning. This profound impact leaves EdTech companies to integrate this approach as a key feature in their products. It enfolds several aspects of learning and facilitates not only students but also teachers. Students can learn remotely, whereas teachers will face reduced non-teaching tasks. It enables teachers to differentiate instructions and spend more time on small groups to provide one-to-one instruction. 
What are the challenges of Hybrid Learning adoption?
Although hybrid learning is more effective as compared to the traditional approach, educational institutes need to look for several aspects to make the switch.
Here are some prerequisites that educational institutes need to fulfill:
Educational institutes need ample financial support to invest in technology for supporting both hybrid and virtual interactions.

Tutors and staff need training to get well-versed in this new approach. 

Need to work on improving the digital literacy of learners so that they can access hybrid models with ease.

Creating outcome-based learning programs that will make learners fit global industry requirements.

Develop online networks to support in-person encounters and improve the situations with efficiency.
Why Hybrid Learning can be helpful for educational institutes?
This learning is a blend of in-person and online learning, and both these methods have their own pros and cons. Hybrid mode tries to bring the best of both and provides a seamless learning process.
Here is how it can help educational institutes:
1. More time to focus on learning:
Teachers can pay more attention to students in hybrid mode. It also gives more opportunities to practice their skills. In this approach, students can enjoy learning at their own pace and receive instant feedback. It combines online with synchronous or on-site learning. Hybrid learning offers a more flexible approach to students, as they can opt for in-person or online learning at any time. Also, the flexible learning schedule and teaching method enable students who cannot travel to their schools. 
2. Ability to revise lectures:
In hybrid learning, students learn from video-based lectures. Students often face problems while understanding complex concepts. With a blended learning approach, students can record the lectures and revisit them anytime. Students can relearn them by watching until they understand. This is the biggest advantage of this approach over the traditional one. 
3. Greater Safety:
We all witnessed a deadly pandemic but with the help of technology, we continued education. So, hybrid learning ensures students can attend their classes even in natural or artificial disasters. In the case of data security also, this method proves to be more effective than its manual counterpart. As a cloud-based learning management system embedded with this approach can offer cloud technology security. 
4. Direct access to information:
With a hybrid approach embedded in the learning management system, both students and teachers can have direct access to information. This will help them to understand the concepts deeply and collaborate to grow together. But to restrict unauthorized access, better security practices need to be integrated while developing the learning management software like access privileges, one-sign-in, and others. 
5. Personalized Learning:
Personalized learning is the future of education and can be achieved with the help of blended learning. It fulfills a student's individual needs and brings flexibility to the learning process. For example, students who prefer classroom-led learning can have face-to-face interaction with their buddies and teachers and those who prefer more independent learning can avail of the flexibility and autonomy of online learning. So, basically, it can facilitate both types of students and can provide the best-tailored method for them. 
6. Develop soft skills:
Hybrid learning is a blend of online and offline learning so time management becomes an important aspect in this approach. Students can develop better time management and organization skills to make a perfect fit for this approach. For example, students availing of this blended learning, need to complete some coursework online and some offline. This will lead students to learn to manage their time effectively and organize their schedules such that they can meet the requirements of both modes. Also, with this mode, students can learn communication and collaboration skills. 
The word hybrid is trending across almost every sector, from hybrid working to hybrid cars. In the education sector, hybrid is a new concept but slowly reaching out to students and becoming famous. This Learning will break the location barriers and will help to continue education with the help of technology. Several education products are now embedded with this approach to fulfill the student-centric approach and Vidyalaya is a master of this art! To know how you can embed hybrid learning and expand your vision, call us or drop an inquiry mail. We are there for you with our top-rating learning management system blended with this futuristic approach!