Essential Tips to Conduct Virtual Classroom Effectively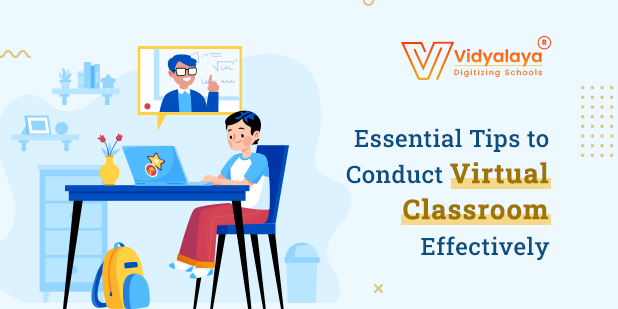 It has become a norm that educational institutes use virtual classroom methods in the learning process, especially after pandemics. Educational institutes have realized the benefits and many of them insist on continuing the approach even after school gates are open. Though it has become a practice not all institutes can use virtual classroom software efficiently due to a lack of knowledge or some handy tips. If you are also looking for the same, then you have landed on the right page. 
What is virtual classroom software?
Virtual classroom software is a set of applications that facilitate learners and tutors to continue the learning process online mode. It provides a common platform that stimulates the classroom-led learning method, just as both integrating parties are connected to each other virtually and not face-to-face. 
Quickly go through the benefits you get from this new-age learning method:
Learn at your own pace

Reduced cost

Effective communication

Scalability and flexibility

Instant feedback
How you can bring efficiency in conducting virtual classrooms and making them more productive?
All the practices you are rehearsing to date are not going to be outdated suddenly. New or modified norms and routines if established early and practiced consistently, they bring positive outcomes. Irrespective of whether you are a teacher or a learner, both parties expect the sessions more pleasant and rewarding, right?
So, here are some practical tips that can help you manage the online classroom effectively and that work for both group and individual audiences:
Put All Distractions at the Bay!
What will you do if your class is getting disturbed during conventional learning by some noisy sound? You will close the door and windows so that students and teachers can continue learning with concentration, right? The same replicates in online learning! Make a first-day rule of putting phones, toys, and other distractions away from the learning desk. Make this rule applicable to pets and siblings also.  Although this rule can have certain doable limitations, especially when physical space is limited. Have a word with family members about this, and come to a solution that can let the learning process productive.
Interact with a webcam as a person
In various virtual classroom sessions, it looks like the tutor is teaching but he/she is not looking at the camera. This really distracts students and put off their concentration. The tutor must understand the sitting condition that every student is sitting in front of the webcam and is looking at you only. Showing proper eye contact, positive body movements, polite talking, and other moves will make your session engaging and productive. Also, how you present yourself in front of the camera becomes important. Wear a neat and clean dress, the best possible formal. Make a proper seating arrangement so that it exactly replicates the physical classroom. Make sure that you have a sufficient light arrangement so that your audiences see you clearly. 
Present your Best online
After your best physical presence, it's time for giving your best on the academic front. Present the study material in such an engaging way that students enjoy the learning throughout. Easily understandable slides with no spelling and grammatical mistakes will help students to go through topics easily. You can also take some lessons on how to make interesting slides and incorporate them. Include other modes like audio, video, pdf, and images to make the slide self-explanatory. Advanced virtual classroom System helps teachers to prepare such slides. 
Look for student-inspiring Ways
As you are not physically close to your students, you must think out-of-box to engage the students. Like, if you are teaching a lesson about musical instruments, you can play the audio, or even you can play a video of a concert in which different instruments are being played. Implement all the ways which inspire your students. One more way is flipping the classroom. Solve a practical problem by joining your class, eliciting questions, and conducting debates among the class. Leave the dry and text-worthy parts of the lesson for offline or for student work. Even record-and-play features of online classroom software can work in this to record and send it to students to watch later. 
Bring more fun
During classroom-led learning, you can obviously get some reflection from students while teaching like nodding their heads, confused reactions on their faces, and sometimes yawning too. But they are the indicators of the way of teaching. But in the online classroom System sessions, it is not possible to look into the window of each student while explaining the concept. Instead, you better bring some interactive aspects into the class so that you can finish the lessons together. Integrate some games during the teaching like puzzles, quizzes, or rapid fire. Let your students think and answer. One of the handy tips is breaking down the lesson and making it digestible. Divide the massive information into small chunks and clear the base. 
Make them Feel Special
Physical separation from classmates and sitting alone in front of the camera can demotivate the students. Also, they may feel that no one notices if they leave the class or miss a class. If you want to avoid this in your classroom, make every student feel special. Integrate their names throughout the lesson, ask random questions, give regular feedback on their work, and such creative ways. 
Keep a Question bank ready!
One of the challenges of virtual learning is that one person speaks and side conversation doesn't matter, even if they are productive. Obviously, they may seem disturbing, but that's how we exchange ideas. So, keep some time deserved for questions, doubts, and discussions. Or you can encourage students to create a question bank where they can accumulate their questions and later can be discussed them in the classroom. 
With an increasing number of students enrolling in online courses in the last year, the virtual classroom has become a widely-famous learning technique that connects thousands of students and tutors across the globe. The flexibility, scalability, learning at your own pace, and instant feedback, are some reasons behind this fame. No wonder, the feature is present in Vidyalaya's school ERP for a very long time and now it is being used rigorously. Our integrated online classroom software is a perfect digital tool that enhances the learning process by eliminating the flaws of traditional chalk-and-talk learning and making your millennial generation ready for the global exposure they are going to face in the future!