Best Online Accounting Software to Ensure your School Accounting Transparency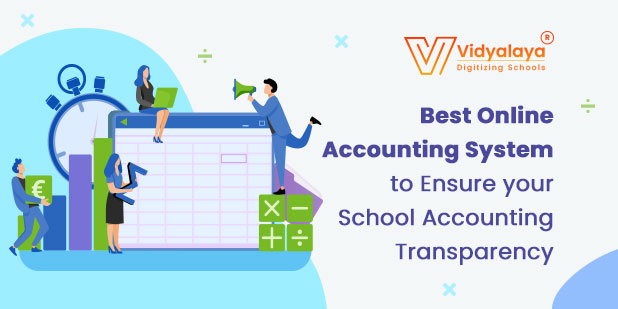 The accounting and finance professions are being transformed by automation. Online accounting software is critical for any firm to increase business and job efficiency and accuracy. Accounting is more than just ledgers, bills, credits, and debits; effective accounting includes elements such as analysis and reporting in addition to ledgers and bills.
According to UK research, 37% of small and medium-sized business owners believe that accounting is becoming increasingly automated and can do various duties themselves. Business leaders expect accounting automation services that provide a smooth experience. School Accounting Software deals with the intricacies of found accounting and financial reporting and has everything a business manager at an institution needs to function smoothly, including comprehensive financial reporting.
A/C, Budget, Cash Receipt/Bank Receipt/Payment, Journal Voucher cum Voucher printing, Trial Balance, Voucher Modification, Facility to Combine Departments, Balance Sheet, and other General Accounting functions are covered in the modules. Accounting offers information about the resources available to a business, the methods used to manage fiscal resources, and the outcomes obtained via their usage.
Analysis- is a fundamental component of every organization since reporting and analytics aid in decision making and, as a result, save time for management. Machine learning will provide accounting systems and financial professionals with unparalleled insights into their customer base in the future. Accounting and financial software should be user-friendly and straightforward enough that even the most inexperienced user can use it.
Once the software is installed, and the accountants are educated, it will take less time to accomplish their daily responsibilities. Online Accounting software is completely configurable to the customer's convenience, keeping client requirements in mind. Because all data is kept in one location, data access between the accounts department, the HR department, and other associated departments is simple.
The goal of a financial accounting management system is to make accounting systems and financial processes intelligible to the average person who has little or no exposure to the world of finance and accounting. The program allows all departments within an Institute to keep their accounts across many businesses as needed.
Accounting entries from all departments are aggregated at the Institute level and are available for quick review and adjustments as needed. When data is exchanged, security is a problem. However, we pledge to protect data integrity and do not promote data sharing across companies.
Accounting and finance reports or periodic statements that reflect a firm's financial status at a particular moment or over a specified period due to its business transactions and activities are considered by all organizational heads.
These reports include enough information for an accountant to anticipate future performance and make recommendations to keep an Institute on track with its business plan. According to the statistics obtained after implementing the accounting and finance management system, fee defaulters have decreased by 45 percent.
A few of the reports provided by our system are given below:
1. Fee Defaulter by Class
2. Due/Collection/Pending Amounts by Class
3. The fee collected per trimester (online/offline)
4. Default Cumulative Fee Amount per Trimester
Consider these points while buying an Accounting and Finance Management system:
● School-specific functionality
● Multi-currency support
● Bank compatibility.
● Scalability and flexibility
● Group company/sub-company formation
● General Ledger and sub-ledger
● Bank payments/receipts
● Security options
● Ease of use
● Income and expenditure
Benefits:
• The input of ledger entries using a simple and intuitive interface makes the entire process riotous and error-free.
• Prepare and Record vouchers with ease.
• Reconcile and Prepare P&L, Balance Sheets, and Cash Flow Statements quickly and efficiently.
• Create standard statutory reports
• Take advantage of real-time reporting and multi-dimensional analysis
Emerging Accounting Technologies
Accounting is reaching new heights thanks to technological advancements. Whether you're a seasoned accounting professional wanting to keep on the cutting edge of the business or an ambitious novice, you'll want to be aware of the following developing accounting technology.
Cloud Computing

Working in the cloud is an important technological development. The cloud provides quick access to resources such as data and computer power. The constant updating of information is a significant benefit of a cloud-based system, allowing accountants and clients to evaluate data and make choices based on up-to-date information. Furthermore, according to the Journal of Accountancy, cloud-based technology can provide "constant monitoring, rather than intermittent analysis," anytime information on the system is changed.
According to Forbes, cloud computing is rapidly expanding as new sophisticated technologies such as the internet of things, artificial intelligence, and machine learning is integrated into the cloud. As these technologies grow increasingly widespread, the future of accounting appears to be cloud-based.
Automated Accounting Tasks
Audits, tax preparation, banking, and payroll are among the labor-intensive and time-consuming aspects of accounting that are rapidly becoming entirely automated. By automating repetitive and time-consuming tasks, technological systems free up humans from undertaking analytical and managerial duties. According to Forbes, major software providers such as Intuit, Sage, OneUp, and Xero, for example, offer automated data input and reconciliation solutions that incorporate bookkeeping utilizing AI and machine learning technology.
According to the CPA Journal, another example is robotic process automation (RPA) to shorten audit and contract processing times to weeks rather than months. According to Forbes, bigger businesses that use RPA AI integration have "improved productivity and higher-level services" compared to smaller, non-AI competitors.
Blockchain Technology
Blockchain technology, a computer-based recording system that employs cryptocurrencies inside a user-to-user network, is another innovation that will influence the demand for accountants in the future. While blockchain acquired prominence due to bitcoin — a digital currency in which a record of transactions is kept and new units of money are produced independently of a bank — the technology has advanced significantly.
According to Accounting Today, the appeal of blockchain for accounting stems from "the prospect of a new form of accounting record — one that can be continually updated and validated without the risk of being manipulated or corrupted."
Technology's no surprise that accountants are interested in blockchain because it allows users to view ledgers in real-time, construct smart contracts, and record transactions. According to Accounting Today, several accounting companies, including the Big Four — EY, PwC, Deloitte, and KPMG — are already implementing blockchain.
Accounting is founded on a set of rules known as accounting principles, which govern the process of recording, categorizing, summarizing, and conveying financial information. A school financial management system is required for any organization to focus on all features so that utilizing online school accounting software becomes useful to them. All criteria of an organization are met so that their business grows.