What are the Advantages of Using College ERP?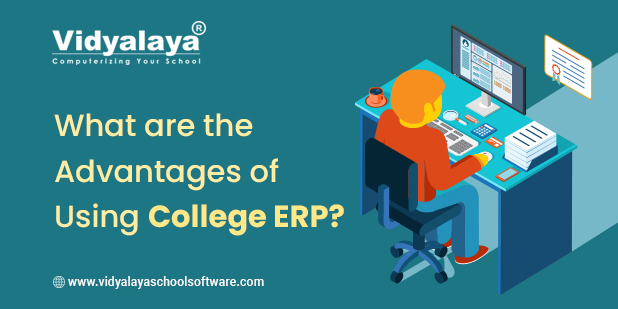 The college management system digitizes a college's entire operations, beginning with marketing activities, enrolment management, student learning, human resource management, and finance management. It digitizes the everyday tasks of the campus as well as helps from a single platform to handle administrative, academic, and non-academic activities. The software for college management is an advanced type of management information system (MIS), a tool that can be used to capture and analyze college operations data. It helps to handle within the college the entire lifetime of a student, parent, and faculty and standardize the college's financial, academic, and administrative operations.
The benefits of the college management software represent all those involved in the learning process: the management who supervise the activities of the school, teachers, students, workers, parents who are eagerly awaiting the completed project, and the employees who get the operations up and working. College ERP software offers a collection of tools – a guide that helps college administrators to operate the institution seamlessly and do it in a way that shows productivity, cost savings, and creativity. It is also easier to imagine what many of the college management advantages are.
It's necessary to remember why your school or college requires it before buying a custom school ERP. How's that going to help? What are the holes or drawbacks that you will need to fix? In your educational institution, there are plenty of pros and cons of using personalized apps. So here is the list of top of the College ERP software benefits.
Complete Automation
The solution for college management helps to coordinate different facets of the college system, including pupils, personnel, admissions, time table, tests, fees, monitoring, etc. For easy and quite well decision-making, the system allows administrators to access, handle, and evaluate data and processes. The need to maximize resources leading to a better distribution of employees contributes to the implementation of the solution for college management. It is a holistic approach that provides specific and comprehensive management of the college.
Increased Productivity
The College Management System allows teachers and administrators to improve their effectiveness and decrease the time and effort needed to administer colleges and coordinate college data accurately.
Collaborate Beyond Classroom
It effectively links colleges, students, and staff as a web and mobile-based interactive application to easily manage college processes and significantly reduce the workload.
Handle Multiple Branches and Departments
With multi-level ERP solutions, it becomes accessible to manage various branches located at different locations and the principal can monitor and evaluate the department and class-wise activities ranging from student and staff attendance, student development, collection of college fees, library situation, and much more from a single mobile application.
Role-based Access
With a hierarchy of multi-level data access, organizational data remains secure. Additional implications may be restricted by flexible access to organizational data to various positions according to their chairperson responsibilities. The positions could be as principal, cashier, clerk, owner, etc. and they would be able to access data features accordingly.
Save Paper and Reduce Administration Workloads
The solution for college management is ahead of the curve, offering complete automation of all college administration tasks, and achieving the goal of paperless administration.
Data Security
The essence of the business market involves a complex system of pricing. However, it is quite a boring job to manually keep track of this. You need a robust ERP solution for this which will automate the process of documenting the price of goods along with discounts available on them, making the process quick and fast. Each educational institute must maintain records of students for the current academic year as well as single or multiple campus alumni, teachers, books, and other resources. Collectively, the volume of data becomes enormous and it is never safe to store them physically on the shelves. A college management ERP can safely store this huge amount of information. To maintain the data, the application needs a backup method, which is very impossible to have if it is stored in files.
Data Management Centre
Educational institutes need to maintain enormous quantities of student data, books, test schedules, lesson plans, and other records. To make the process of data management simple, an ERP solution incorporates the entire campus and all the branches into a common framework. The program allows stored data to be exchanged across all departments to keep important announcements current for teachers, employees, and students. You would therefore have greater control over your institute's internal and external contact and would never encounter a communication breakdown.
Cost-Effective
In every market, including educational institutes, one of the most prominent advantages of ERP implementation is its cost-effectiveness. The program eliminates manual activities involved in simple campus administration techniques, such as registration, payroll, fee collection, and others to save money. For imperative educational reasons, the expense spared may be used.
Quicker Management Decisions
The college management ERP provides simple and fast access to student information, teachers, schedules, tests, admissions, fees, reporting, and so on. This allows management to more easily evaluate and examine different facets of the institution, leading to growth in planning skills. Via strategic data view, increased data access often improves well-informed decision making.
Conclusion
We believe that quality education is for all, so there should be no cash, belief, or language barriers. The ways we challenge the status quo is by making easy-to-use, beautifully designed, and impactful, better educational tools. And we happen to be working to make the education system better.