Top-rated Student Information System in India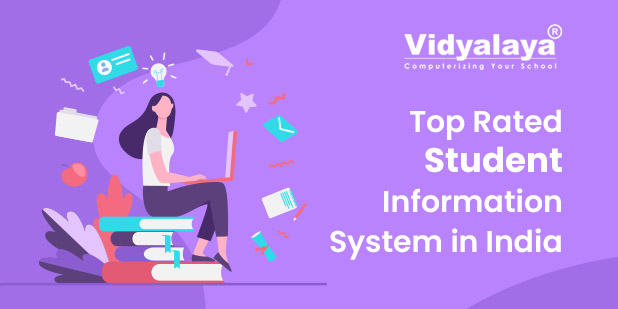 With this digital age, India too is evolving and acquiring online-based technologies. The education field has been updated with lots of modifications in the education system and outstanding facilities on school campuses. Most of the reputed educational institutes prefer to monitor and track the student's information digitally. Student Information System (SIS) also known as a Student Management System is used for effortlessly managing the student's data.
Student Information System (SIS) also known as a Student Management System (SMS) is a cloud-based fully automated system. Student Information Software are invented to maintain, store, track, and monitor student-related data. School Management Software is generally used to completely manage student data and keep track of their records of attendance, academics, grades, behavior, activities, fees, and transport. This School Management-based ERP software is a computerized system and the database is stored in the cloud-based server which is centralized. For accessing the software, role-based permission is given to the users hence it ensures good data security.
Benefits of Students Information System:
Student Record Management:
As the name suggests Student information software is utilized to keep track of students' complete profiles. It is done to manage students' general information, grades, attendance records, fee records and alert stories, behavior, performance, feedback, participation in extracurricular activities, and many more.
Fees Management:
Managing the financial record is a very important and critical task for school management. School-based ERP helps to manage it completely. The administration can have benefits like auto receipt generation, secure and easy online transactions of the fees, comprehensive reports, Student wise fees scholarships, and concessions.
Dashboards for the management team:
The management can analyze the various examinations, fees, and students and summarize the report. Moreover, they can check in their customized dashboards too where they can check the summaries of admission inquiries, fees, staff and students attendance, assessment, and academics dashboards with attractive graphical representation.
Virtual Classrooms and Result Management:
In the student information system virtual classrooms, which have become a norm globally in the current situation the virtual classroom is used the most. It has various advantages such as live lectures conducting and discussions, attendance tracking, and multi-media file sharing. With E-learning, the schools can also publish the analyses of the student's grades. Online result sheet generation becomes a lot easier with the student information system.
1) Vidyalaya School Management Software
Vidyalaya software is the top-rated student information system in India. Vidyalaya Student information system is the ultimate solution for keeping track of students' records effortlessly. With 18-plus successful years in the educational domain. Vidyalaya has trained more than 13000 professionals. Vidyalaya recently got recognized as the best school management software in the Good Firms (Good Firms which is the most reputed review platform). All these achievements generally conclude that Vidyalaya is a top-rated student information system available in India. In this digital age, Vidyalaya provides hassle-free integrations such as Bio metric-It is applied to monitor students' and staff's attendance, Online Classroom, and E-Exam to take live lectures and track the student's progress. SMS Integration For sharing real-time reminders and alerts.
These are the benefits that Vidyalaya software has:
Complete student information in a 360-degree view dashboard.
Fee management with online fee payment.
Online classroom & group discussion.
E-learning with an online mark sheet.
Effective communication between teachers, parents, management, and students.
Complete attendance, and marks/grade automation.
Manage class information and analytical reports.
Manage assignments, projects, events, and activities.
Tracking the detailed history of performance of a student
Online submission of homework, assignments, and projects.
Vidyalaya the top-rated school management software is rated top in the well-known review websites:
Google: Vidyalaya is the top-rated school management software in the Google reviews with an unbelievable number of 1082 reviews and 4.7 ratings.
Good firms: Vidyalaya has the highest number of reviews in the good firms. Vidyalaya also has outstanding reviews as 78 and the ratings are 4.91.
Techjockey: In the Techjockey portal, the Vidyalaya is rated as one of the most relevant school-based EEPs. As it has 63 reviews with 4.86 ratings.
Software Suggest: Vidyalaya has a terrific amount of reviews 54 with 4.8 ratings.
Technology Counter: In the Technology counter Vidyalaya is rated as one of the best with 25 reviews and 4.8 ratings.
2) Kino ERP
Kino School's student information software is one of the best school management systems in India. The main motive is to streamline the communication between students and parents. The school management can use this software for many reasons such as lesson planning, transport management, library, inventory, finance management, and hostel facilities.
These are the benefits that Kino School ERP software has:
Daily task assigning feature.
Easy account mapping with finance.
Quick and reliable student performance analysis.
The grade-calculating mechanism saves teachers a lot of time.
Conduct admissions in a paperless environment.
3) Alma Student Information System
Alma student information system is the complete package as it puts administration, teachers, parents, and students in a single platform to track the records seamlessly. It monitors the teacher's daily work and progress. Communication between the students/parents with the teachers/management becomes very obvious. Human efforts are reduced to a greater extent with the Alma school management system
These are the benefits that Alma Student Information System software has:
Secure and reliable software.
Parental Portal through which they can check the daily reminders and child's progress.
Advanced searching and support module.
Automatic daily backup
GPS tracking with transport management.
Conclusion:
Student information systems have become a foundation in the education world. With its simple functions, It has become paramount for schools to use it to manage school campus-based operations effortlessly. All the listed student information system has plenty of experience in the education domain. No-brainer, They are rated the best student information system in India.