Exam Done? Let's break the routine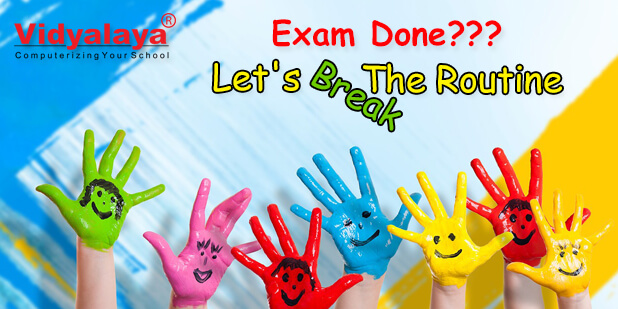 Exams are over now and as summer vacation begins, kids get excited. It's the time for which kids eagerly waiting. They imagine all the fun and wonderful things they are going to do. However, parents get worried that their kids be so full of energy or so excited that you cannot keep an eye on them or keep a check on them all the time during the school holidays? Or they will be stick to cartoons, movies or play stations all summer? Here are some activities to keep them entertained, active and happy during school holidays.
Let your kids enjoy with colors: 
One of the most common and versatile forms of art is to allow your kids to draw and color their dreams. This helps children to improve their imagination and creativity.
Grandparent Biography:
This is another good activity for children to know more about their family, their stories. These summer holidays allow your child to spend time with their grandparents. Grandparents are full of memories and experience and children always love listening to their family member stories and that will become a learning experience for them and make their bond stronger.
Learn by fun:
Everyone's journey of understanding starts with pictures of animal and fruits. Pictures and Images are the easiest way for kids to memorize things and understand the world easily. Try to make fun games include questions related to general knowledge, which is the most interesting activity that increases the knowledge and understanding of children. There are many games and quiz for this nowadays which also creates an excitement for a child and helps to take best out of them.
Indulge your Child in some Sports activity:
This is the time when sports create a celebrity out of your child and it is the best way to teach your children teamwork, leadership, decision making etc.
Off-Season Skill Training:
If your child is enrolled in a sport or activity during term time, find out if there's any skill or strength they'd like to improve before they go back. Whatever the goal, set aside some time every day to practice and congratulate your child at the end of the holidays on the progress they've made.
Explore Outside:
Being outside in nature is important for children. Fresh air, exercise, and observation of the natural world are similar to childhood. Allow your children heading out for some outdoor fun and help them to explore new places. See what your kids can discover about the area around your house, and about themselves.
Family Vacation:
Plan a long vacation with your kids in their summer holidays. This is the time when your kids can spend fun time with family and allows parents to make a strong bond with their kids. It also makes your children to learn and experience the different culture and explore new places. This will help them to learn more.
Capture all the summer fun in a Scrapbook:
Help your children to save all the fun memories of summer vacation in a scrapbook. This will allow your kids to think creatively and they will remember all the fun and wonderful memories of their lifetime.
These are some activities that parents can add to their child's summer vacation schedule to bring best out of them in a fun way. Summer vacation is the time for kids to explore new and creative ideas.
We at Vidyalaya campus Management software plead parents to not seize childhood and excitement from their kids.