What is UHF attendance system and how it works?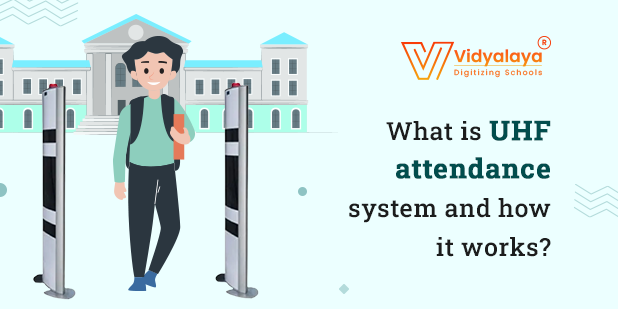 Attendance has been an important factor in the education sector. Evolution in the education system has empowered the attendance system to make a paradigm shift from register-based attendance to a UHF attendance system. If it is a newbie for you, then let us tell you that many schools and colleges have installed this modern attendance tracking system and ditched the traditional record-maintaining system successfully. Digitalized system of attendance not only monitors students' attendance but also ensures students' safety on the school premises.
These systems are installed at the entrance of the premises, so they cover a bigger canvas of security. Vidyalaya thirsts for innovation and modernization of education, incorporate this safety feature in its products and facilitates educational institutes with this exceptional feature. Know the other features and benefits of the UHF Attendance System! 
What is UHF Attendance System?
A UHF Attendance System is an attendance monitoring system that uses Ultra High Frequency to mark attendance and sends an automated SMS to parents about their ward's attendance. This long-range system has a UHF reader which identifies students with in-built IoT technology and sends data instantly to the server. This data is processed and decoded to authenticate the student's attendance, and after validation, a notification is sent to the parent's registered mobile number. 
This method aces the biometric attendance system, as students don't need to stand in the queue for scanning their fingerprints. The wall-mounted UHF readers can immediately scan the tag with an ultra-high frequency technique and will authenticate the entry. Also, it does not need an internet connection or computer device as the UHF attendance software can be linked with mobile SIM or GPRS technology. Thus, it gives a cost-efficient solution with less overhead of installation. 
What are the benefits of a Wireless UHF Attendance System?
Vidyalaya's wireless UHF Attendance system envelops several benefits, like:
UHF attendance system

is quick and easy to use. Students don't have to place their cards or need to remember their roll numbers as attendance punching is done by the UHF reader itself after appearing in the range.

Once it is installed in the school premises, the expense of using a wireless

UHF Attendance system

is cheaper and more effective than making a phone call. 

Staff will experience a significant reduction in workload and automation of the attendance process can save effort, money, and time for teachers. They can use this valuable time in the core processes. 

When attendance is marked,

UHF Attendance Software

sends an automatic SMS notification to parents' mobile numbers. This increases parents' involvement and keeps them updated about their ward's attendance. Keeping parents in the loop can also improve the school's communication with them.

In case of emergency or special cases, when bulk messages need to be sent, an in-built feature of

UHF Attendance Software

makes it possible to send it within a few minutes.

As data of UHF Attendance Software is stored on the cloud, it is safe from intruders and unauthorized access. The role-based access can restrict access and keep the data safe from tampering. 

The

UHF attendance system

optimizes the accuracy and efficiency of the attendance monitoring process and facilitates institutes with various standard and customized reports that give insights into attendance data within a few clicks. 

The simple plug-and-play process removes the deployment hassles and makes it easy to use. It is portable and wireless in nature so can be used on any premises. 

For school administrators, it is a task of a few clicks to keep a tab on the attendance system without physically going to school premises. 

One can integrate this exceptional

UHF Attendance System

into various options like school bags, tags, ICards, and shoes. 

Get daily in/out SMS and absentee reports within a few clicks. This is highly beneficial for school administration staff to have a glance at daily updates. 
What are the system specifications for the wireless UHF Attendance system?
Vidyalaya focuses on the engagement of fewer device specifications and comes up with a budget-friendly solution that every school can afford. Here is the specification chart for the system:
| | |
| --- | --- |
| Item | Specification |
| – Operating System Support | – Windows, Linux, Android |
| – Interface | – RJ 45, RS-485/RS 232 |
| – Frequency | – UHF Long Range 860 to 960 MHZ |
| – Reading Distance | – 2.8 m |
| – Maximum Reading Rate | – Up to 1100 tags per second |
| – Compatible Memory | – 16 MB Flash Memory, 512 KB SRAM |
Attendance monitoring systems are an invaluable tool for educational institutes as attendance is a core aspect and is linked with the progress and overall development of students. Understanding the flaws of the manual attendance system, educational institutes are finding alternatives in the form of digitalized systems. Vidyalaya ends its search at the UHF Attendance System and can automate the manual process. Save your time, and money and fetch desired results with the product, and have an efficient attendance monitoring system with us!