The 10 Key Elements In Online Parent Portal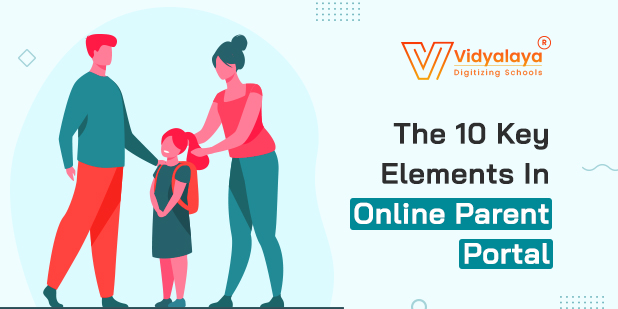 As everyone is shifting to online business, the education industry is also shifting its base from chalk-talk to online when it comes to the management of the school. In the last few years, we have learned the importance of going online whether it's virtual classes or making transactions online. We also learned the value of digitization which significantly reduced our time and helped us work more efficiently.
As time passed, it also emerged a need for an Online Parent portal. An ERP with a School Parent portal not only makes your organization perform important tasks well but can also help your campus process smoother. The right ERP with a parent portal can even lead to new ways of working. Therefore, it's very important for a school or college to have the right ERP with comprehensive features that match your requirements.
What is Online Parent Portal?
A parent portal is an online system that allows parents to access students' information. When it comes to any school or campus it's very important to have a "Parents Portal" as the parents need to know their child's progress and keep a track of their learning. In a way "Parents Portal" is a bridge between the school or campus and the parents.
A School Parent Portal cut costs by automating routine tasks for both School and patents prospects
A Parent portal Improves the overall work process of the organization for schools and campus & also It enables your employees to work more efficiently & in a defined manner.
An online parent portal improves and offers you new ways to communicate and collaborate electronically with your most important stakeholders which are parents & students.
Key elements of the Online School Parents portal:
1. Key Element & the reason behind the insist:
Parents portal is a significant platform where student parent's teachers can involve involvement without spending hours. In the recent era of time increase in complex cities and manual work in the traditional management of campus has led most campuses and schools to use ERP which is the most effective way of management nowadays.
2. Significance of the School Parent portal: –
Today's generation of parents is already busy working in their routine schedules. They always face time as a big constraint. However, it's also important for them to stay updated about their ward's schooling activities and progress. When it comes to paying fees an integrated ERP of school online parent portal can also help them pay fees at their convenient time. The parent portal can also keep them updated about the school colanders & events.
3. Parent Portal From the parents & School perspective: –
Parents as major stakeholders need to have information about activities. Therefore, If the school offers a one-stop destination platform for all these tasks, it will be beneficial for them. The parent portal is the destination where parents can get everything, they need to access the academic details of their ward at once.
4. Quick access to information:-
Parent portal Increases awareness of Parents about learning about their children and tracking their academic progress. It also helps parents to have instant access to the child's classmates' or teacher-related information.
5. Ease of communication:-
A portal having communication features helps parents to have instantaneous communication with the teacher to raise queries or chat with a teaching staff of the child's classmates. Access to student information & activities.
A School-Parent portal opens the door of School- Parents- Students communication in various ways. For example, sending circulars is the most important need of any school where they are able to send circulars in just one click to all the parents. Moreover creating a poll for all parents or students asking for feedback from parents for events or activities, helps management to understand the view of the parent's opinion and schedule future events in a better way.
6. Tracking the progress of the child:-
Time by time tracking the progress of the child is difficult for the parents in their busy schedule, in that case, an organized parent portal can help parents to see the marksheets and also see the progress in chart forms to understand the growth of the child not only in school's academic areas but also activities. Parents can also see the lessons, homework and assignments given by teachers.
7. Transparency and control: –
The school can have control of the viewable information through the parent portal. Flexible settings options are available for individual parents or guardians to see specific information.
8. Easy online financial transactions: –
Online Parents portal can facilitate the parents to make any fees charge or deposit-related transactions anytime during day. That saves time & effort of school as well as parents both.
9. Receiving important documentation: –
Keeping records of paid fees and certificates or any other important documents given by schools needs to be managed. An ERP with a Parent portal will help them receive all the fees receipts, charges & deposit-related documents in real-time via their email or WhatsApp.
10. Secured access: –
Parent Portal has real-time secured access to students' data and daily activities. As a wide variety of sensitive information is updated in the School online portal it requires to have important security features.
The role-based security and reliable backups on a trusted cloud will make sure that student data is in safe hands and can be downloaded when it is needed. The role-based access will eliminate the possibility of accessing data by unauthorized users.
Parents' role in the child's education journey is most important and keeping the parents aware of their ward's progress in the easiest possible way is the responsibility of schools. Today's generation of parents also measures schools on such parameters. So, it's very important for a school to have the most advanced ERP where students-parents can get whatever they need. Vidyalaya with its student-parent portal lets the educational institutions provides an engaging platform for parents. This portal will improve the relationship between parents and school management and apparently will result in the institute's growth.