Divyabhaskar nominated our Client, I. N. Tekrawala School as one of the best schools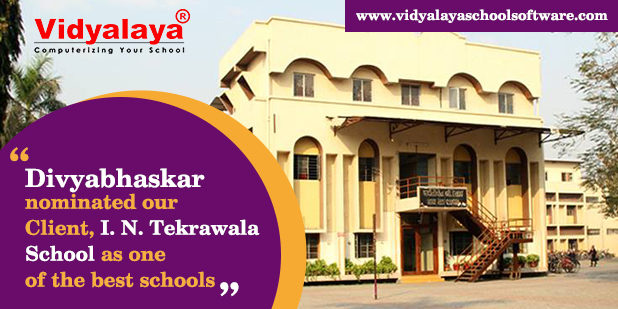 One of the prestigious clients of Vidyalaya School Software for the last 17 years, I. N. Tekrawala School, Surat has been nominated as one of the best schools in Gujarat by Divyabhaskar. It has produced 242 Doctors, 10-45 Chartered Accountants, 100-150 Lawyers and Judges, and many professors, police officials, and international sportspersons.
Moreover, two teachers from the school have received the Best National Teachers award from the President of India while 7 teachers gave got Best Teachers award from the Gujarat Government. Kudos to the school management and students.
The school has been using our school management software to make its school management easy. Our software has enabled them to focus on students teaching, growth, and improving their skills rather than getting busy in the administration and management tasks.
They realized that giving attention to the student is really necessary to encourage students to achieve their goals. This was the reason they had opted for Vidyalaya School ERP to automate their school administration. Since then they have been constantly using our School ERP to successfully manage their school activities.
Read the full Divyabhaskar story from below link:
https://www.divyabhaskar.co.in/local/gujarat/surat/news/this-school-in-surat-has-given-242-doctors-40-45-chartered-accounts-7-teachers-got-the-honor-of-best-teacher-127694776.html