25 Imperative Features in Vidyalaya School App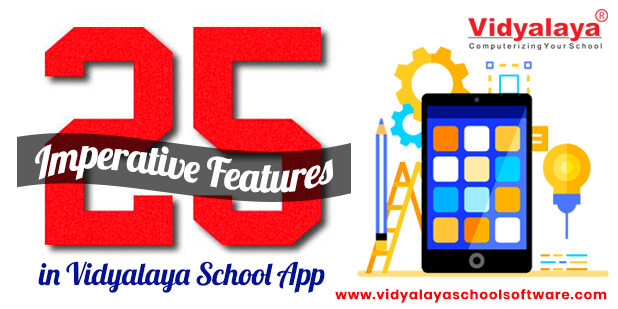 Communication is paramount in education. It can be any type of communication, & all such communication plays a vital role in the school administration.
Essentially, a regular communication creates a much stronger bond between parents, pupils, and teachers to form a strong community that works together to produce the best in education.
Vidyalaya Mobile Application is a school app helping parents stay updated with all the events & activities of the school, with their child's academics & many more which in turn opens a smarter line of communication.
Let's have a quick look at these 25 functionalities :
Circular: Make your School Notice Board access Anytime, Anywhere with all types of file as an attachment including short videos. Any message, unplanned event or emergency like school closures, change in timings, PTM etc. can be conveyed to parent easily & instantly.
School Calendar: All upcoming events & activities like PTM, Annual Program, festival celebration, sports day etc are readily available on the school calendar for parents to plan their other schedules accordingly.
Attendance: Parents can now have regular updates on their ward's attendance including Late coming & Early going.
Classwork/Homework: Allow parents to download & view classwork & homework. Works best for absentee to get informed with academics update.
Behaviour Update: Keep the parents informed about their child's behavior on the school campus,& take the child towards a better development.
Fees Status: Paid & Unpaid fee status is available for the parent to view along with next payment date & Amount for better transparency.
Vehicle Tracking: Parent can also track their child's school bus location with Track My Bus features. It also sends a notification to the parent on bus arrival & departure at a defined time schedule.
Result Sheet: Easily send parents about student performance in various Class tests(i.e. weekly test, monthly test, revision test, subject wise test etc ) and make sure that they are improving day by day. Parents also have the option to download complete result sheet in PDF. Go Paperless With Vidyalaya.
Online Fees Payment: Pay fees at Your fingertips – Easy, Fast & hassle free -You can easily select the mode that suits you best among credit cards, Debit cards & online banking.
News: Keep your parents notified about the School news on the go.
Exam Scheduler: Update The Exam Schedule easily with Vidyalaya Exam Scheduler. Parents can have exam date updates of whole academics.
Blog: School can upload the blog for the parents & teachers, so they can easily be updated with current trends.
Feedback/Poll: Feedback module helps to take the review of your parents & staff personally. Poll helps to know about the general opinion of the school with a voting option.
Gallery: Gallery displays all event activity photographs for the user to view & download
Assignments: Allow parents to download & view assignments. Works best for absentee to get informed with academics update.
Query: Query opens the line of one to one communication between teachers & parents, helps parents to quickly resolve their query from home directly by communicating with the concerned department.
Timetable: Share your daily timetable of subjects with the parents & get them notified about the upcoming lectures & sessions. Vidyalaya also helps to set lectures according to the convenience.
Events & Activity: List all upcoming events & activities like PTM, Annual Program, festival celebration, sports day etc effortlessly.
Staff & Student Birthday Alerts: Never miss out on any birthday with birthday alerts for both Staff & Student.
You-tube Integration: Vidyalaya also offers you-tube integration. Integrate your youtube channel with Vidyalaya mobile app with no extra log-in.
Payslip: No more paper payslips. Go green & provide your employee payslip directly in the application.
Leave Listing (Approve/ Reject): Trustees worried about leave management. Get instant updates of employee leave on application & quickly approve or reject.
Task Management: Assign various tasks to anyone you want anytime, anywhere.
Fee Collection Summary: Get Latest information about today's Fee collection (receipt-book) wise.
Apply to Leave: No more wasting time in writing Leave applications – Apply for leave directly from your Vidyalaya Application
This all features mean that parents have more information about their child at their fingertips than they have ever had before and this is helping to develop relationships that previously didn't exist.
Now With Vidyalaya School App, they're involved in the school's communication strategy and can directly communicate with the School authorities.
And also it is the best way to retain the parent's trust in the organization. It's all about creating interest in the parents which can't be done without proper communication that allows parents to be a part of the institution.