4 Key Components of School Management System for your school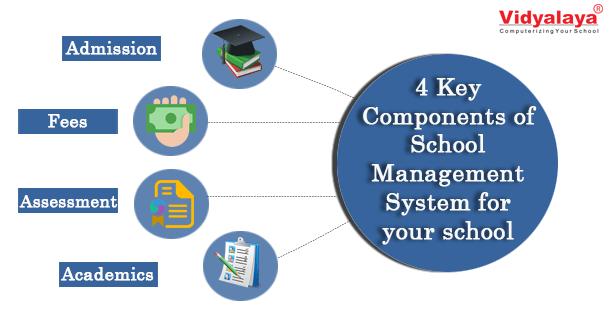 With technology making rapid advancements with more benefits, components of school management systems have become quite popular. There are many functionalities and tools are important aspects of resource management at school. Every school has a different need when it comes to the average school management system. Evaluation of components of school management systems is different as a result of which it is first very important to understand the main components of the school management model that would be ideal for your school.
Here is a list which presents some possible solutions which a school management system should and must have. here are various viewpoints that are essential with managing and keeping up a school or school locale:
1. Admissions
The School Management System. should have a feature wherein it should automate inquiries and manage them. It is important for every online document to be validated. If possible your product should include online enrolment. This enrichment includes all the details of fees of each student, student details, their parent's details, & the fee receipts. All of your school admission work can be easily done with these components of school management system. The ultimate goal of a school management system includes the improvement and growth of the school productivity.
Admission management in itself includes its unique features:
Admission inquiry
Admission Form
Convert inquiry into confirmation
Direct link with student management
Configurable with school websites for online admission
Admission follow up details
2. Fees Management
There are two very important and competitive arts of school management system, one id registration and the other is scheduling. Most registration feature should include automatic generation of schedules, online portal, calendar feature and a speedy e-messaging system and also the mobile app. The use of a good messaging system will bridge the gap between the faculty and the student and shall allow easy communication.
Making registration is an easy task but handling data and maintaining it for the future purpose that is the work of school management system. The Vidyalaya components of school management system includes this features mainly as fees management and its main features are:
Advanced fee setup for multiple fee category with deposit
Student wise concession/Addition
Multi receipt book configuration
Auto fee receipt generation
Auto SMS alert on payment
Mapping with Account
Comprehensive reports
3. Student Assessment
The days of having grade books are long gone. With online grade books, accessing records is not only easier but feeding grades and the compilation of data becomes a much simpler task. Grade books in the online world also have features where one can track their attendance and see the effect on their final score.
Student assessment is being made easy with Vidyalaya to enhance its great features for the student's performance. Here it helps teachers to make clear criteria for the student performance and how to improve their performance. These includes:
Support all board pattern (CBSE, ICSE, IB and state board)
CCE pattern
Combine exam and marks converter
Fully user-defined mark-sheet generator with 40+ inbuilt design
Statistical, chart & graphic reports
4. Academic
When you are done with one semester you need to be updated with your academics. Here, parents are being easily updated with the lessons and more the students are prepared for it. This is done in just a single integrated system. The components include:
Update daily classwork
Assign homework
Organize lesson plan
Syllabus scheduling
Update completed lesson
These with definitely help students to increase their performance in all the ways. Organize lesson plans are being managed by Vidyalaya school management system.
Many schools these days are providing online homework to their students. This is primarily because there is a reduction in the cost of printing materials. It is much easier to access and handle digital documents rather than printed ones. Plus digital documents cannot be misplaced, so the student and parents can easily refer it the times they want it.
Updates can be managed easily on the daily basis. These would definitely enhance the time period for teachers to give more focus on studying of students. Vidyalaya components of school management system provides mainly these of the components where you just need to be updated with some easy going criteria.
There are many more components to go through with Vidyalaya School System. Stay updated with our next blog…!